Alfred Hitchcock Home Movies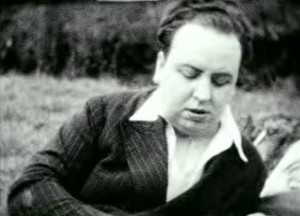 Alfred Hitchcock Home Movies [excerpt] by Alfred Hitchcock and others
Courtesy of the Alfred Hitchcock Estate and the Academy Film Archive, www.oscars.org/filmarchive
16mm, b&w, silent, ca. 1930. Commentary by Patricia Hitchcock O'Connell
In 1928, Alfred Hitchcock and his wife Alma purchased a cottage in Shamley Green, a village 30 miles southwest of London, in the county of Surrey. Alma, a screenwriter, editor, and assistant director, was pregnant with their only child Patricia at the time, and the house provided the family with a restful family weekend retreat where they entertained many of their friends from the film world. They maintained the cottage until moving to Los Angeles in 1939. Other reels in the Hitchcock family's home movie collection tend to show him in front of the camera rather than behind it, showing his lighter side, including more scenes from Shamley Green, on holiday, and on the set of his films Blackmail and Frenzy.
Dedicated to the preservation, restoration, documentation, exhibition and study of motion pictures, the Academy Film Archive is home to one of the most diverse and extensive motion picture collections in the world. The Academy of Motion Picture Arts & Sciences was founded in 1927 and began acquiring film material in 1929. The Academy Film Archive, established in 1991, holds all of the Academy Award-winning films in the Best Picture category, all the Oscar-winning documentaries, and many Oscar-nominated films in all categories. Housed in four climate-controlled vaults, the Archive's collection also includes: private home movies of Hollywood legends like Steve McQueen, Esther Williams and Douglas Fairbanks, Jr.; a wide range of documentary and early cinema films, including the Lumière, Méliès and Blackhawk collections; the Paper Print Collection, a result of the Academy's early collaboration with the Library of Congress; visual effects reels, makeup and sound test reels, and moving image documentation of the Academy's Scientific and Technical Awards; and film, kinescope and videotape of Academy Awards ceremonies extending back to 1949, along with additional news material and special coverage of the Awards show.