Atom Bomb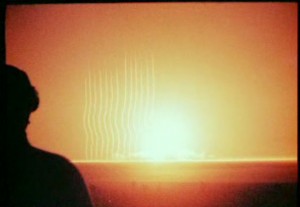 Atom Bomb [excerpt] by Louis C. Harris
Courtesy of the Louis C. Harris Home Movie Collection, Walter J. Brown Media Archives, University of Georgia Libraries, www.libs.uga.edu/media
16mm, Color, Silent, 1953. Commentary by Louis C. "Hap" Harris, Jr.
"Atom Bomb" was filmed by newspaper editor Louis C. Harris (1912-1978), a native of Montgomery, Alabama. Harris began work at the Augusta [Georgia] Chronicle in 1932 as assistant circulation manager, state editor, and telegraph editor. During World War II, he was a public relations officer for the 12th Air Service Command, and after the war served as assistant public relations officer of the U.S. Forces in Austria and on the staff of General Mark Clark. He was also an accredited war correspondent in South Vietnam.
As part of the Civil Defense department's campaign to educate the American public about the power of atomic weaponry and the need to prepare for possible war, newspaper men, civil defense officials, and local government officials were invited to witness atomic tests during the 1950s. Louis Harris was invited to view the 16-kiloton "Shot Annie" in Operation Upshot-Knothole on March 17, 1953. He described the week's events for the Augusta community in articles for his newspaper.
After beginning as a typical tourist's view of Las Vegas, the film shows invitees being briefed on the layout of the atomic test grounds by Col. William Bullock, Commander at Camp Desert Rock. It then moves to a panorama of the phalanx of airplanes with atomic capability at Indian Springs Air Force Base. Over 150 newspapermen, radio, photographers, and 300 civil defense officials from all over the United States watched the blast from "News Nob," seven miles from ground zero, and 1,000 military troops and 20 newsmen were stationed in forward positions. The film shows the pre-dawn blast and then a procession of attendees headed into the desert towards a Civil Defense test site for in-automobile blast effects using mannequins.
"[My father] was a self-made newspaperman. He began his career as a newspaper delivery boy; He passed up on attending college in order to support his younger brother obtaining his degree. His reputation in the news business grew: He became a "Who's Who in America", was on a first name basis with numerous U.S. Senators and U.S. Congressmen; he knew many Cabinet members from various Administrations; met with J. Edger Hoover many times and had the opportunity to meet with several Presidents and Vice-Presidents. He attended several US Army War College Conferences at Carlisle, PA when the future plans were being developed for actions during the Viet-Nam War era. Louis Harris was a member of a very special group of Americans- – true news people; those who put the truth of story above all else. In Harris' days of newspaper work, he knew the difference between the facts of a story verses the emotions of feelings. By today's standards, it's a lost art." – Louis C. "Hap" Harris, Jr.
Mr. Harris was managing editor of the Chronicle from the early 1950s until his death from cancer at the age of 66. He was married twice and had two step-daughters and three sons, one of whom, Louis Harris, Jr., donated his father's home movie and home audio recording collection to the University of Georgia Media Archives in 2002.
The Walter J. Brown Media Archive & Peabody Awards Collection preserves over 200,000 titles in film, video, audiotape, and transcription disks dating from the 1920s to the present. The archives are housed in the Main Library on the north campus of the University of Georgia. Its mission is to preserve, protect, and provide access to the moving image and sound materials that reflect the collective memory of broadcasting and the history of the state of Georgia and its people. The archives currently holds 55 family home movie collections containing over 1,100 reels of film documenting all aspects of American life during the last century. Amateur film, video, and audiotape highlighting Georgia people, places, and musicians can be found in: The Andrew Avery Home Movie Collection of the 1940s-1950s; three Georgia newsfilm collections; the Kaliska-Greenblatt Home Movie Collection, which contains footage of prominent Jewish families in Atlanta and Athens in the late 1920s and 1930s; the Georgia Folklore Collection of field recordings of Georgia folk musicians made by Art Rosenbaum and the Georgia Folklore Society with more than 1,000 hours of music, interviews, and storytelling and including rare and lively performances by the Tanners, Howard Finster, and the McIntosh County Shouters; the Foxfire Collection which contains the videotaped interviews, performance, and music of this Mountain City, Georgia, institution from 1970 to 1990; and the Arnold Michaelis Collection of Living History which features interviews with social, political, and cultural headliner interviews from the 1950s-1980s including Dr. Martin Luther King, Jr.