Baby Squirrel and Chicago Bus Ride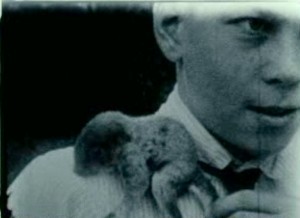 Baby Squirrel and Chicago Bus Ride by Stuart Dimond
Courtesy of the James Dimond Collection, Walker Art Center, www.walkerart.org
9.5mm, b&w, silent, 1927-1930. Music by 4 Five VI
Stuart Dudley Dimond (1891-1985) was an engineer who worked for several Minneapolis companies and later became chief electrician for the Soo Line Railroad. Dimond was also an amateur filmmaker and shot this 9.5mm film footage of his family and a trip around Chicago between 1927 and 1930.
Pathé Baby was the trade name for a 9.5mm home movie system introduced in France in 1922. This qualifies 9.5mm as the first practical home movie format accessible to the average consumer, beating Kodak's 16mm gauge onto the market by several months. There was a camera and a projector, both cranked by hand. An extensive catalog of commercially-available 9.5mm films was issued in this new format for sale or rent. These first films were only 30 feet long — about 90 seconds of cranking. An innovative freeze frame mechanism lengthened the showing time by pausing for title cards which, in reality, occupied only a few frames of film. Not only did this conserve film (thus reducing costs) it circumvented import duties which were based on the amount of film used.
The 9.5mm format was introduced in the United States for Christmas of 1925, but despite its initial success, a combination of factors including Kodak's marketing strength, the introduction of the 8mm format in the 1930s, and a "buy American" sentiment during the Great Depression doomed 9.5mm in the North America market, though 9.5mm persisted as the 'standard' format for home movies in Europe through the 1950s. [Kevin Phillips]
Formally established in 1927, the Walker Art Center began as the first public art gallery in the Upper Midwest. The Walker's Home Movies series includes enlightening footage of the upper Midwest in the early 20th Century including a double decker bus ride through downtown Chicago; the unveiling of a newly built locomotive for the Soo Line Railroad in Shoreham, MN; scenic views of Camden State Park, MN; propeller airplanes probably at Fort Snelling, MN; and beautiful footage of Minnehaha Creek and Falls, MN.