A Day on Featherlane Farm/Meet the Neighbors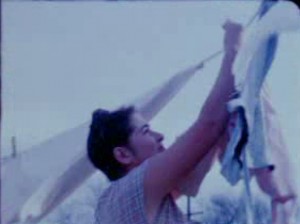 A Day on Feather Lane Farm/Meet the Neighbors [excerpt] by Mortimer Goldman
Courtesy of the National Center for Jewish Film www.brandeis.edu/jewishfilm
8mm, Color, Silent, 1948. Music by 4 Five VI
"Meet the Neighbors" is a segment from Mortimer Goldman's film "A Day on Featherlane Farm," which documents egg farming in Ocean County, New Jersey. The area was originally an agricultural and fishing center, but the development of the seaside resorts and the opening of the Garden State Parkway allowed for easy access from the New York metropolitan area, and the population of the county boomed following the Second World War. A primarily rural population of 37,000 in 1940 increased to more than 108,000 in 1960.
Mortimer Goldman was a photographer who, along with his partner, operated the Peskin-Goldman studios in Toms River, Brick Township, and Lakewood, New Jersey from 1955 to 1984. Mr. Goldman served in the army during the Second World War and landed in Normandy, France on D-day, fighting through the Hurten Forrest and the Battle of the Bulge, and meeting the Russians at the Elbe River. After the war, Mort and his wife Dorothy bought a farm on Old Freehold Road in Toms River where they raised chickens. They were founding members of the Congregation B'nai Israel in Toms River, with Mort serving as president from 1967-1969. He was also past president of Toms River B'nai B'rith, the Jewish National Fund, Israel Bonds, and the Jewish Federation of Ocean County. Goldman died on August 4, 2009 at the age of 93.
The National Center for Jewish Film (NCJF) is a unique nonprofit motion picture archive, distributor and resource center housing the largest, most comprehensive collection of Jewish-themed film and video in the world. The ongoing mission of NCJF is to gather, preserve, catalogue, and exhibit films with artistic and educational value relevant to the Jewish experience, disseminating these materials to the widest possible audience. NCJF's first priority continues to be the preservation and restoration of rare and endangered nitrate and acetate films. The Center has long been recognized as a leader in the revival of Yiddish cinema, rescuing watershed films like Green Fields (1937) and Tevye (1939) from virtual oblivion. By producing and distributing pristine film and videocassette editions of such historic works with new English subtitles, NCJF effectively reintroduces modern audiences to a unique cultural and cinematic experience.