Heart Mountain Relocation Center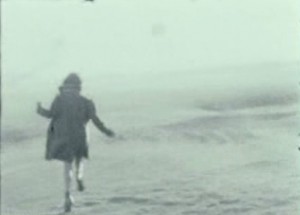 Heart Mountain Relocation Center by Naokichi Hashizume
Courtesy of the Japanese American National Museum, www.janm.org
8mm, b&w, Silent, 1945. Commentary by Kimie Hashizume Ouchi
Naokichi Hashizume was born in Tsuruga, in Fukui Ken, Japan, on August 10, 1901. In 1913, the family left Japan and moved to the West Adams area of Los Angeles. Mr. Hashizume worked has a gardener in Los Angeles's Silver Lake district until the outbreak of World War II. In the wake of Pearl Harbor and the subsequent internment of Japanese Americans, the family of five was relocated to the Santa Anita Assembly Center in April 1942, losing nearly everything except what they could carry with them. In September of that year, the family was transferred to the Heart Mountain Relocation Center in Wyoming, where they were interned until the end of the war.
Following their release in August 1945, the family moved to New Jersey, where Mr. Hashizume found work at Seabrook Farms, working in a vegetable cannery. In 1947, the family once again returned to Los Angeles, where Mr. Hashizume resumed his work as a gardener. After retiring, he moved back to his hometown in Mikata Gun, in Fukui Ken, Japan, where he passed away at the age of 89.
The Heart Mountain Relocation Center, located 60 miles east of Yellowstone National Park in northwestern Wyoming, was one of ten internment camps that held Japanese Americans during the Second World War. The center was open from August 1942 until November 1945, and housed up to 10,767 internees from the West Coast, making it the third largest community in Wyoming at the time.
Since its inception in 1985, the Japanese American National Museum has chronicled more than 130 years of Japanese American history—from the first Issei generation through the World War II incarceration to the present day. The Los Angeles museum is the first in the United States dedicated to sharing the experience of Americans of Japanese ancestry as an integral part of U.S. history. Through its comprehensive collection of Japanese American objects, images and documents, as well as multi-faceted exhibitions, educational programs, documentaries and publications, the National Museum shares the Japanese American story with a national and international audience.