Innsbruck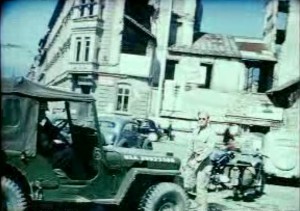 Innsbruck [excerpt] by Morris Margolin
Courtesy of the Morris and Dorothy Margolin Collection, Archive of Documentary Arts, Rare Book, Manuscript and Special Collections Library, Duke University, library.duke.edu/specialcollections
16mm, Color, Sound, 1953
Morris Margolin, Founding Partner of Margolin, Winer and Evens, an accounting firm in Garden City, Long Island, NY, was, in addition to his professional work, an avid amateur filmmaker and photographer. He and his wife, Dorothy, took an extensive series of journeys in the 1950s -1970s, which Margolin documented through 16mm home movies, both with and without sound.
Margolin was born in Jamaica, New York in 1908, to Russian immigrant parents. He graduated from New York University where he received degrees in business and education. Margolin developed his passion for traveling and photography as a young man; but, it wasn't until the late 1940s that he bought his first movie camera. Initially, he only used it to make the typical 'family movies.' Sometime after that, in the early 1950s, he and Dorothy began to travel to such faraway places as Israel, USSR, Pakistan, Iran, Ethiopia, Kenya, Bulgaria, Thailand, Japan and, as noted here, Innsbruck, Austria. In carefully documenting these trips using both movies and photographs, Margolin had a keen awareness of their uniqueness, and a passion, if not dedication, to share the experiences with others. Margolin's films are memorable in that he regularly used his camera to record everyday life, as well as the notable architecture and geographical features of the countries he visited.
He devoted enormous amounts of time and energy to enhancing and editing his travel films. Sequestered in the basement of his home, Margolin cut and spliced his movies, making them more interesting and entertaining for his family, his friends, and the Metropolitan Film Club in Manhattan, where he went regularly to show these films. Morris Margolin captured some of the world's most fascinating cultures and lifestyles, and this confluence of a unique moment in cultural time with the rare amateur use of 16mm film resulted in an extensive series of rather extraordinary 'self-taught' films.  [Linda Margolin]
The Archive of Documentary Arts (ADA) is part of Duke University's Rare Book, Manuscript and Special Collections Library. Its mission is to collect, preserve, and provide access to photography and moving images that document the human condition. It works closely with the Center for Documentary Studies, the Arts of the Moving Image Program at Duke University, and the Full Frame Documentary Film Festival.
Duke's Special Collections Library has been actively collecting moving image materials for over twenty years with a focus on home movies, documentaries, and productions by H. Lee Waters. Waters was a prolific filmmaker, and his collection contains the largest number of itinerant films in the country. Renowned for its depiction of everyday life in the 1930s and 1940s, "Kannapolis" from his series "Movies of Local People," was added to the National Film Registry in 2004.