Last Great Gathering of the Sioux Nation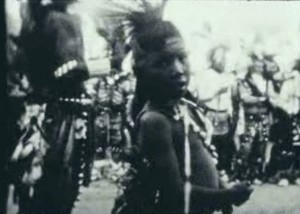 Last Great Gathering of the Sioux Nation by Arthur P. Howe
Courtesy of the Nebraska State Historical Society, www.nebraskahistory.org
8mm, b&w, Silent, September 1934. "Omaha Song" from the album Songs of the Sioux. Canyon Records, www.canyonrecords.com, All rights reserved.
The Last Great Gathering of the Sioux Nation, which attracted some 1,000 Native Americans from nearby reservations, was held at Fort Robinson, Nebraska in conjunction with the dedication of twin monuments to the memories of Lt. Levi Robinson and Oglala Chief Crazy Horse. Robinson, for whom the U.S. Army's long-time frontier outpost was named, was killed in 1874 while guarding a wagon train near Fort Laramie, Wyoming; Crazy Horse died while resisting military arrest at Fort Robinson in 1877. The monuments, a project of the Daughters of the American Revolution, were no doubt the first dedicated to a white man killed at the hands of Native Americans together with one commemorating a Native American killed by Whites.
Both the Gathering and the dedication of the monuments drew huge numbers of participants and spectators, including Arthur P. Howe, a pharmacist and civic leader in Crawford, a small town in Nebraska's northwestern Pine Ridge area and the closest civilian settlement to Fort Robinson. Significantly, many of those attending the unveiling ceremony were dignitaries or "living symbols of [Fort] Robinson's rich history," and this is perhaps the only time they are captured on motion picture film. Likewise, the events surrounding the Gathering in Crawford's City Park attracted many notable tribal leaders. In a region no stranger to extravaganzas, the local newspaper depicted the events as "the biggest historical celebration ever held in this section." The Gathering's parade, athletic contests and dances depicted in the film represent some of the Nebraska State Historical Society's best moving image footage of Native Americans.
The Indian Wars of the 19th Century, in which Fort Robinson played a major role, were far from forgotten by the time this film was made. But the dedication of the twin monuments at Fort Robinson and the consequent Gathering of the Sioux Nation in Crawford signified a milestone in Anglo-Native relations.
The mission of the Nebraska State Historical Society is to collect, preserve, and make accessible evidence of the human habitation of Nebraska. The Society is one of the primary homes for orphan films in the Midwest, and is the only public repository of moving images that relate to Nebraska by virtue of their production or content. The society's audiovisual holdings include hundreds of reels of home movies, as well as local television news film, political ads, public service announcements, local talent films, newsreels and video oral histories. Its growing collection dates from 1900 to the near present, making it a comprehensive look at the state on film. [Paul Eisloeffel]