Lower 9th Ward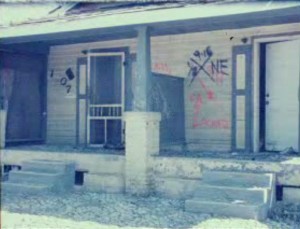 Lower 9th Ward by Helen Hill
Courtesy of Paul Gailiunas and the Harvard Film Archive, hcl.harvard.edu/hfa
Super 8, Color, Silent. 2005. Commentary by Paul Gailiunas
Helen Hill, a native of Columbia, South Carolina, was an animator, filmmaker and activist who devoted her life to using film as a means of connecting with local communities and the wider world. A native of Columbia, South Carolina, she made her first animated film at the age of 11. She continued making films while earning her B.A. at Harvard, followed by a Masters of Fine Arts degree at California Institute of the Arts. "Scratch and Crow," a 1995 film that she made while at CalArts was named to the National Film Registry in 2009. The Library of Congress noted at the time that the film was "filled with vivid color and a light sense of humor," which can be said of most of her animated work.
Hill and her husband Paul Gailiunas were drawn back repeatedly to New Orleans, inspired by the city's arts and culture. The couple moved to Mid-City New Orleans in 2000, along with their cat and pot-bellied pig Rose, and it was there that their son Francis Pop was born in 2004. Following the devastation of Hurricane Katrina in 2005, they were displaced from their home and returned to Columbia while the city recovered. It was during a trip back to New Orleans to salvage their possessions, including many reels of flood-damaged super 8 home movies that she filmed this reel of the Lower 9th Ward. The family moved back to New Orleans a final time in 2006 and it was there that Hill was tragically murdered by an intruder in their home in January 2007, prompting a city-wide response to the continuing violence in the city.
The Harvard Film Archive began in the late 1960s as a teaching resource for film studies, and has grown into an ever-evolving collection of film and video, presently boasting over 20,000 items. The HFA has strong holdings in silent Soviet film, avant-garde cinema, documentary, and classic Hollywood fare, as well as smaller collections of home movies, educational films, theatrical trailers, and 16mm television programs. The collection is open to scholars and researchers, and includes several complementary collections of papers, photographs, posters, and ephemera. The Harvard Film Archive's Cinematheque presents films to the public four nights a week, and frequently invites filmmakers to discuss their work.