Nixon Visits Idaho Falls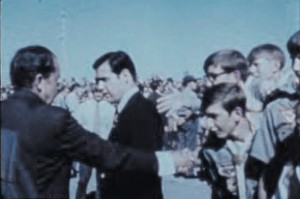 Nixon Visits Idaho Falls by the Nixon White House Staff (John Ehrlichman, H.R. Haldeman, Larry Higby, and Dwight L. Chapin)
Courtesy of the Nixon Presidential Library and Museum, www.nixonlibrary.gov
Super 8, Color, Silent. Archival sound recording (White House Communications Agency), 1971.
The Nixon White House Staff Super 8 Motion Picture Film Collection contains FBI-confiscated films recorded between 1969 and 1973. The film was found in the office files of John Ehrlichman after he resigned his post as Assistant to the President for Domestic Affairs. The collection consists of 204 rolls of color super 8 and one roll of color silent 16mm motion picture, totaling about 14 hours. The Super 8 films were shot not only by Ehrlichman but also by President Nixon's Chief of Staff H.R. Haldeman, Haldeman's assistant Larry Higby, and Deputy Assistant to the President Dwight L. Chapin. The audio was recorded independently by the White House Communications Agency and has been edited to match the film as closely as possible.
Richard Nixon began August 18, 1971 in New York City with breakfast with Nelson Rockefeller, then flew to Springfield, Illinois for the declaration of Abraham Lincoln's home. From there he headed to the Grand Tetons in Wyoming, but on the way he would stop at Fanning Field in Idaho Falls, Idaho for 47 minutes. Though only in town for a brief time, the president's stop included speakers by Idaho Governor Cecil Andrus and Secretary of the Interior Rogers Morton. "A bronzy, bantering President Nixon," wrote the Idaho Falls Post-Register, "seemingly pleased with the warm welcome he received, told some seven thousand persons at the Idaho Falls Airport Wednesday afternoon that Idaho's rugged, competitive, frontier type of people are the heart of America." After his brief remarks, the President went to the crowd behind the fence to shake hands with the gathered well-wishers for more than 20 minutes. The Freedom Singers of Ricks College (now Brigham Young University-Idaho) regaled him with the singing of "We Are America" before Nixon reboarded Air Force One and departed.
The Richard Nixon Presidential Library and Museum, located in Yorba Linda, California, is the presidential library of the 37th President of the United States. At the time of its original dedication in 1990, the library and museum was operated by a private foundation and was known as the Richard Nixon Library & Birthplace. In July 2007 the library became a federal facility, one of twelve presidential libraries administered by the National Archives and Records Administration. The campus, jointly operated between NARA and the Richard Nixon Foundation, also includes President Nixon's 1913 birthplace as well as the graves of President Nixon and First Lady Pat Nixon. The Archives, which opened in March 1994, houses approximately 6.2 million pages of records as well as extensive photographs, film reels, and recordings. In 2010, the Nixon Presidential Materials were moved from the National Archives facilities in College Park, Maryland to the Library and Museum in California.
See Clips page to view complete film.